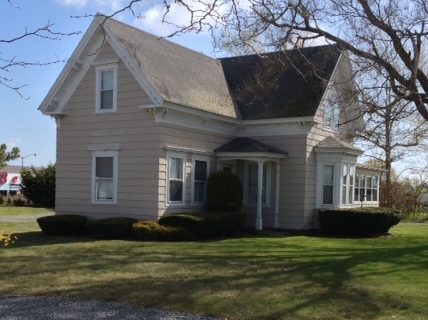 Cape Cod Victorian
Cape Cod Cottage
FOR RENT WEEKLY (some off-season weekends available)
Two rental homes, in one convenient location, with access to heated swimming pool.
Located in Dennis Port on Main Street, about one mile to Sea Street Beach.
Near beaches, walk to shopping, breakfast, lunch, dinner, entertainment and amusements.
Linens included for both homes.
Both rentals are air-conditioned and have free WiFi
For reservations call 508-367-3717.  Off season reservation can be made online or email holiday@capecod.net.
RATES and VACANCIES for
2021
Rented weekly or 3-day weekend, as indicated
Week-long stays are Saturday 3:00 p.m. to Saturday 10:00 a.m
For weekend stays, please call to discuss details and preferences
There are additional tax charges on these rates. Local and State authorities have applied a tax of  14.45% for Vacation rentals starting July 1, 2019

May 8-May 15, Saturday to Saturday – 7 nights
Victorian: $910/week – Available
Cottage: $595/week – Available
May 15-May 22, Saturday to Saturday – 7 nights
Victorian: $910/week – Available
Cottage: $595/week – Available
May 22-May 29, Saturday to Saturday- 7 nights
Victorian: $910/week – Available
Cottage: $595/week – Available
May 29-June 5, Saturday to Saturday – 7 nights
Victorian: $1085/week – Reserved
Cottage: $665/week – Available
June 5-June 12, Saturday to Saturday – 7 nights
Victorian: $1085/week – Reserved
Cottage: $665/week – Reserved
June 12-June 19, Saturday to Saturday – 7 nights
Victorian: $1085/week –Reserved
Cottage: $665/week – Reserved
June 19-June 26, Saturday to Saturday – 7 nights
Victorian: $1400/week – Reserved
Cottage: $805/week – Reserved
June 26-July 3, Saturday to Saturday – 7 nights
Victorian: $1715/week – Reserved
Cottage: $980/week – Reserved
July 3-July 10, Saturday to Saturday – 7 nights
Victorian: $2170/week – Reserved
Cottage: $980/week – Reserved
July 10-July 17, Saturday to Saturday – 7 nights
Victorian: $1995/week – Reserved
Cottage: $980/week –Reserved
July 17-July 24, Saturday to Saturday – 7 nights
Victorian: $2310/week – Available
Cottage: $980/week – Reserved

July 24-July 31, Saturday to Saturday – 7 nights
Victorian: $1995/week – Reserved
Cottage: $980/week- Reserved
July 31-August 7, Saturday to Saturday – 7 nights
Victorian: $1995/week – Reserved
Cottage: $1050/week – Reserved
August 7-August 14, Saturday to Saturday – 7 nights
Victorian: $1995/week –Reserved
Cottage: $980/week – Reserved
August 14-August 21, Saturday to Saturday – 7 nights
Victorian: $1995/week – Reserved
Cottage: $980/week – Reserved
August 21-August 28, Saturday to Saturday – 7 nights
Victorian: $1750/week – Reserved
Cottage: $945/week – Reserved
August 28-September 4, Saturday to Saturday – 7 nights
Victorian: $1400/week – Reserved
Cottage: $805/week – Reserved
September 4-September 11, Saturday to Saturday – 7 nights
Victorian: $1400/week – Reserved
Cottage: $770/week – Available
September 11-September 18, Saturday to Saturday – 7 nights
Victorian: $994/week – Reserved
Cottage: $665/week – Reserved
September 18-September 25, Saturday to Saturday – 7 nights
Victorian: $994/week – Reserved
Cottage: $770/week – Available
September 25-October 2, Saturday to Saturday – 7 nights
Victorian: $994/week –Reserved
Cottage: $770/week – Available

October 2-October 9, Saturday to Saturday – 7 nights
Victorian: $994/week – Reserved
Cottage: $770/week – Available
October 9-October 11, Friday to Monday, COLUMBUS DAY WEEKEND – 3 Nights
Victorian: Contact us to inquire about availability
Cottage: Contact us to inquire about availability
* There is a 50% non refundable deposit required for reservations. IN THE EVENT OF A CANCELLATION, DEPOSITS ARE REFUNDED ONLY IF WE ARE ABLE TO RE-RENT YOUR WEEK. The balance is due on arrival. We accept Visa, MasterCard, and check for deposits. Visa , MasterCard and Cash on arrival. No checks on arrival.*